Podcast: Play in new window | Download
Subscribe: RSS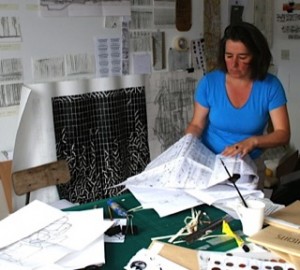 Foster Spragge, is a painter, who while searching for a venue in the City of London criss-crossed the Square Mile in a deliberate way recording her route by making pencil marks on a large piece of paper.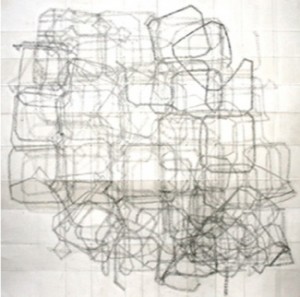 This act began a body of Walking Drawings that has led her to other cities and on pilgrimage walks. Walking Drawings represent the process of walking. The interview by Andrew Stuck was recorded in July 2012 at Foster's south London studio. 19'34" 9.2MB
Download notes from the interview with Foster_Spragge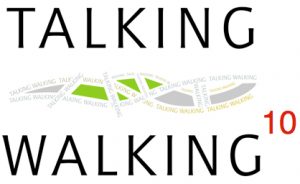 What Foster has been doing since our interview:
"Since the 2012 recording
2013
Exhibition 'Chance'  – The Gallery, Westminster WC2
Solo show drawing  attention to simple experiences and recording finds to create new physical manifestations. Works included displaying the results of a three-year project collecting over 2,500 coins found in and around London streets.  Plus undertaking a large, site specific wall piece, created by 'mapping' the tossing of a coin during the show – logging whether it landed on Heads or Tails.
2014
Exhibition 'Responses' – Flat B, Highbury, N5
Solo show dispatching specific 2D marks on paper to 36 people and asking them to return them 're-arranged' as if responding to an 'un-posed' question enabling me to respond in 3D
2014 – 2016
Exhibition 'Between Thought and Space' – Dilston Grove Gallery , Southwark SE16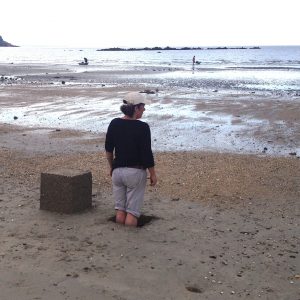 Group show collaborating with other visual Artist/Architect's/and those working in Sound and Dance creating works responding to Dilston Grove over a 2 year period. My culminating piece consisted of a 8 cubes each equal in size to my body volume, and each made out of soil collected from different locations. Continuing the theme of how we occupy space and move through it ('Walking Drawings'). The 8 Cubes starting in a simple wall formation, then throughout the exhibition, they were knocked over, dragged and rebuilt along an East West line within the space.
2017 – Current
'Walk West Swim East' – 2018 ongoing
An exploration into the River Thames though Drawing, Walking and Swimming. Walking Lengths of the River with the thought of swimming it brings a completely new experience of observation. Last year the River was walked and swum to a point 28 Linear miles from the source. Continuing this year to reach further downstream. I have also been making a series of Walking Drawings heading West from Teddington Lock with the intention of reaching the point where the swimming path will finish.
In London I have also been using Tom Bolton's book 'London's Lost  Rivers' exploring the Thames' forgotten tributaries, many now well covered, through a series of  Walking Drawings.  You can listen to Tom Bolton on a previous Talking Walking episode."
For links to each of these projects, please download the podcast notes from this interview with Foster_Spragge.