Podcast: Play in new window | Download
Subscribe: iTunes | Android | RSS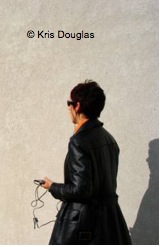 An interview with Viv Corringham a British vocalist and sound artist, currently based in Minnesota, USA. Her work includes music performances, audio installations and soundwalks. She is interested in exploring people's special relationship with familiar places and how that links to an interior landscape of personal history, memory and association. 22'52" 10.7MB
Download notes of items mentioned in this episode: Viv Corringham
STOP PRESS:  Viv Corringham undertook a sound walk Listening with the Feet in August 2014 in New York City.
"Be not afeard; the isle is full of noises…" (The Tempest, Shakespeare)
How can we deal with the cacophony of Manhattan with its traffic and machine drones and squeals? Is it possible to take pleasure in loud urban sounds? On this walk we will consciously listen to the city, letting our eyes take a break and relax their gaze. Our intention to listen will encourage a focus of attention and allow the everyday sounds of a place to resonate. Through our walking feet we can listen to the sounds of a place, to traces of previous walkers, to imagined sounds that may have once existed there, to subtle qualities of the environment we travel through, to the echo of our ancient origins, and to our own memories and associations. The essence of a place is revealed to the feet that move through it and listen.