Podcast: Play in new window | Download
Subscribe: RSS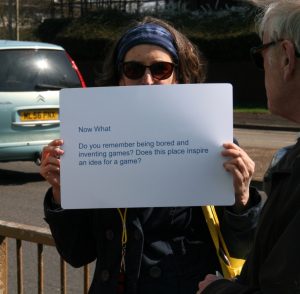 Idit Elia Nathan was brought up in Israel in the 1960s, her memories of playing in the streets of Jerusalem either side of the Six Day War have frequently influenced her thinking and actions, on how she, her children and all of us can and might 'play the city'.
Idit has exhibited and presented work in galleries based on documenting her seven walks through Jerusalem along with other artworks that link play and interminable conflict. Believing that playfully limiting a walk often generates creativity and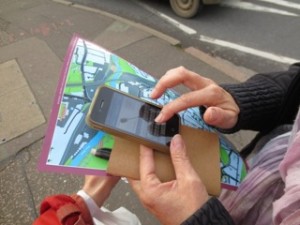 unexpected encounters, she often works with fellow artist Helen Stratford as Play the City now or Never seeking ways to disrupt people's movements through the city to reclaim some of its spaces through play.  Concurrently, she is completing a PhD titled Art of Play in Zones of Conflict – the case of Israel Palestine.
Andrew Stuck joins her on a walk around Hampstead in London not far from where Idit's father lived during the Second World War. The route they follow was determined a by a throw of a dice. 10.5MB 22'20"
Download notes from this interview: Idit_Nathan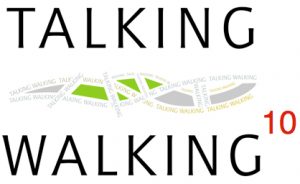 What has Idit Nathan been doing since our interview?
"Since July 2015 (when podcast was recorded) Idit's walking related book Please Watch U R You Head has been exhibited in numerous exhibitions in UK and Europe. Her Walk Anywhere Anytime play die has been the focal point of several walking presentations such as Art, Language Location (2015) in Cambridge, Collisions (2016) – a Performance research festival at Central School of Speech and Drama in London as well as for Walk Exchange (2016) London and New York. Idit's film 7 Walks in 28 Minutes has recently (2017) been screened as part of Metageography: Space – Image – Action exhibition at Pushkin House, London.
Most of Idit's recent walking related artworks have been with Play the City Now or Never have who have since July 2015 launched their App as planned. The pair have also worked in Cambridge, launching their App Play Cambridge Now or Never! at the Junction's Watch Out Festival in 2017. They have also been commissioned by the National Theatre in London (2016/17) to lead several Lightbulb Walks exploring the theatre's unique building and the spaces around it and in Summer 2017 they have walked and played Yorkshire Sculplture Park to which they will return in 2018 to launch their mobile , walking and playing artwork."
For updates on Idit's practice visit her website on: http://www.iditnathan.org.uk/welcome.html
And for updates in Play the City Now or Never go to: http://playthecitynowornever.com/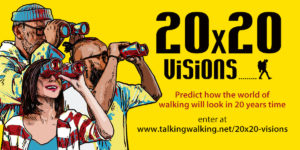 Listen to Idit Nathan and artist collaborator, Helen Stratford's 20×20 Vision for walking in 2040