Podcast: Play in new window | Download
Subscribe: RSS
Kristie Daniel is Programme Director for the Liveable Cities Programme delivered by Healthbridge a Canadian NGO. 
 Healthbridge were multi-award winners in the 2015 Walk21 Visionary Awards, for projects in developing countries in Asia and Africa, where they are working with local groups to create public spaces and improve non-motorised access to them.
Andrew Stuck, producer of Talking Walking, caught up with Kristie as she stopped over in London, on a journey from Toronto to Bangkok. The interview was recorded in March 2016 on a walk through Margravine Cemetery, a popular public space in Hammersmith, beneath the flight path to and from Heathrow. 26'22" 12.4MB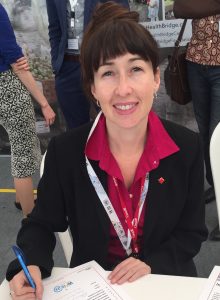 Download notes from the podcast interview with Kristie_Daniel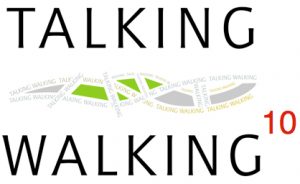 What has happened since the interview
"Since the interview was recorded, we have continued to work on all the great projects that I spoke about in the interview.  The HoiAn Master Plan is currently being implemented.  The city has planned for 79 new parks that are within walking distance of residents.  The city has thus far achieved 40% of that targeted number of parks.  In Kathmandu, the success of Ktm Walks has lead to the creation of a one kilometre permanent pedestrian space in Thamel.  This was a huge success for the local project.
In addition, we have been able to greatly expand our projects in Africa thanks to a grant from UN-Habitat.  In Africa—like in many other places in the world—public spaces are used for public life, commerce and interaction. However, lack of funds, planning, and maintenance, as well as priority for motorized vehicles, has turned many public spaces into unsafe, unforgiving and unconnected places. Many public spaces are difficult to access, especially for those living in vulnerable situations.
This is especially the case in Kampala, Uganda, Niamey, Niger and Accra, Ghana. There is a significant lack of formal public spaces in each of these cities, particularly in the outlying areas where the slum settlements are located. Of those spaces that do exist, they are degraded, of poor quality, and under constant threat of being developed into other purposes.
To address this issue, HealthBridge is working with local partners to  implement pilot public space projects in Kampala, Niamey, and Accra.  These spaces will improve local policies, plans and designs for safe, inclusive and accessible public spaces.  The final results of this project should be available in May."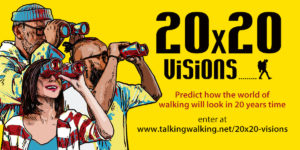 Listen to Kristie Daniel's 20×20 Vision of walking in 2040