Podcast: Play in new window | Download
Subscribe: RSS
Fran Crowe has been collecting 46,000 pieces of plastic that have been washed up on the beach near Thorpeness in Suffolk – she goes out for walks each day to collect the detritus of our modern world.
"My walking has been the inspiration for my last 12 years' work as an artist – it's amazing to think it all started just because of the plastic objects that I saw whilst walking on my local beach. I never would've guessed where a washed-up piece of plastic debris would lead!"
Andrew Stuck from the Museum of Walking joins her on a walk along the shingle beach as she goes prospecting. Recorded August 2010. 20'02" 9.4MB
Download notes of items mentioned in this episode: Fran_Crowe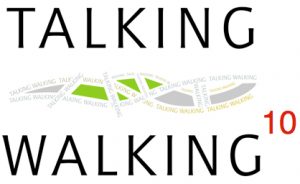 What Fran has been doing since our interview
"Since her interview, Fran has exhibited widely both here and overseas, including as part of the acclaimed GYRE exhibition, which was commissioned by the Anchorage Museum in Alaska and toured in the USA 2014/15.
One of Fran's walks on Orford Ness was featured on BBC Coast in 2015.
In 2014 Fran launched the Museum of Beyond, a provocative and tongue-in-cheek imagining of what people might think of our plastic waste still washing up on beaches in a future beyond oil:  "a sea of plastic seen through future eyes"… Described by visitors as "absolutely mind-blowing" and "extraordinary and moving", the Museum uses humour to deliver a powerful message about the way we live now.
Recently Fran created a 'roaming gallery' in a lovingly restored vintage horsebox.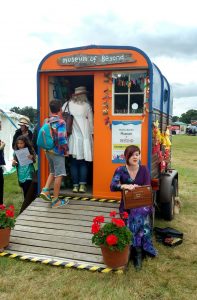 The gallery features The Museum of Beyond including many of the plastic items that Fran has found on her walks. For news of where the gallery will be popping up next and to browse the museum's collections, see http://www.museumofbeyond.org. Fran welcomes additions to the museum – so if you find something interesting whilst walking on the beach and would like to add it to the museum, do get in touch!
Fran is particularly interested in how creativity can be used as a catalyst for change and how it can help people (of all ages) imagine how things could be different – and better…
For more than 10 years Fran has been campaigning about the impact of plastic in our seas so is delighted that BBC's Blue Planet 2 has succeeded in making this front page news in recent months. She hopes real change will result from this and her work on plastics will become redundant.
Research is an important part of Fran's work. In the last two years Fran has been studying: Social Sciences and, more recently, Evolutionary Biology. Keep an eye on her website to see what direction Fran's work takes next!"
Photo credits: Fran Crowe