Podcast: Play in new window | Download
Subscribe: RSS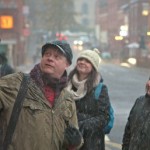 Getting under the skin of a city like Birmingham isn't something you can do overnight, although that was how Ben Waddington and a group friends began their quest some ten years ago. It was almost by accident that Ben became a guide to the hidden, overlooked or secret parts of the city.  He was trying to help people out in finding out about forgotten characters in Birmingham's cultural and industrial past.
Images from previous Still Walking events
Ben quickly recognised that he couldn't be an expert in all things Birmingham and has since set out to help others reveal what is under the city's skin, by setting up the Still Walking Festival, and supporting local people to tell their stories.
Interview by Andrew Stuck: Recorded in July 2015 on a walk in Old St Pancras Churchyard in London. Published in April 2016 25'07" 11.8MB
Download notes of items mentioned in the interview with Ben Waddington
STOP PRESS – SEPTEMBER 2017

Ben Waddington has drawn together an intriguing mix of walks and talks for the Still Walking Festival – it is a fantastic programme that includes the British Army and tightrope walkers. Read more here..