Podcast: Play in new window | Download
Subscribe: iTunes | Android | RSS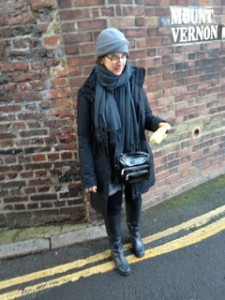 Idit Elia Nathan was brought up in Israel in the 1960s, her memories of playing in the streets of Jerusalem either side of the Six Day War have frequently influenced her thinking and actions, on how she, her children and all of us can and might 'play the city'.  Recently she has exhibited and presented work in galleries based on documenting her seven walks through Jerusalem and an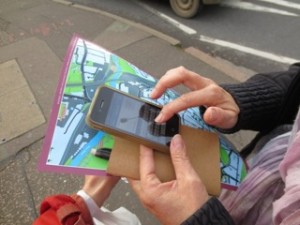 adaptation of a Monopoly game that she calls Hegemonopoly (in which you can win power to control the movement of others).  Believing that playfully limiting a walk often generates creativity and unexpected encounters, she has worked with fellow artist Helen Stratford as "Play the City now or Never" to develop an app which will disrupt people's movements through the city to reclaim some of its spaces through play.  Concurrently, she is completing a PhD titled Art of Play in Zones of Conflict focusing on the case of Israel Palestine.
Andrew Stuck joins her on a walk around Hampstead in London not far from where Idit's father lived during the Second World War. The route they follow was determined a by a throw of a dice. 10.5MB 22'20"
Download notes from this interview:Idit_Elia_Nathan
STOP PRESS
Meet Idit Nathan in person:
Please join us Play the City Now or Never (aka Helen Stratford and Idit Nathan) for lightbulb walks at the National Theatre in London this Saturday 18th February 2017 1pm and 5pm (45 mins), £3 – see details and book here or at https://www.nationaltheatre.org.uk/shows/lightbulb-walks
Meet in Dorfman Foyer,
Walk and talk in and around the National Theatre with artists Idit Nathan and Helen Stratford to play the cultural spaces in and around the building with the help of props, cards and dice.

Wrap up warm and be ready for a short walk with stops along the way.