Podcast: Play in new window | Download
Subscribe: RSS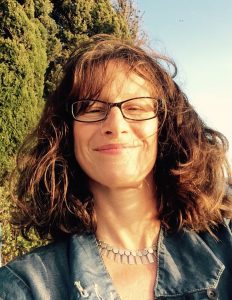 Chatting to Julie Poitras Santos, you can't help but be enthused by her sheer exuberance about her work in bringing people together to walk and tell each other stories. A lecturer at an art school in Portland, Maine, on the east coast of the United States, she has travelled a lot to embed herself in many different communities.
She is currently exploring people's sense of getting lost and the techniques they use to find their way again, both physically and metaphorically. In part she uses a labyrinth, and in our conversation, we discuss how group walking of labyrinths can bring clarity in thought and a strong sense of camaraderie, amongst strangers. We are walking on a warm summer's day in La Romieu in south west France, one of the entry points to the long distance pilgrimage route known as the Camino de Santiago. 24' 31" 11.5MB
The interview was recorded in August 2017 as part of "Made of Walking" at La Romieu in south west France. Published in December 2017.
Download notes of items mentioned in the interview with Juilie_Poitras_Santos