Podcast: Play in new window | Download
Subscribe: RSS
Originally a biologist, Jess Allen gained a PhD from Aberystwyth before joining Herefordshire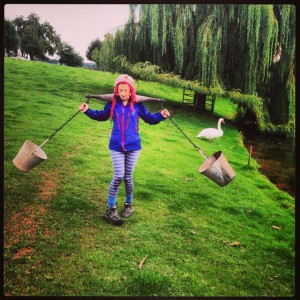 Council as officer on the 'Lifescapes project' – a landscape-scale habitat mapping and community conservation scheme. She then went on to train in contemporary dance, latterly with an MA in Dance Making and Performance from Coventry. She has since worked as a landscape officer (Worcestershire County Council), dance lecturer (Bristol), community arts facilitator (Multi-Story Water) and as an aerial performer for Blue Eyed Soul Dance Company, Full Tilt and everyBODY Dance. She is currently doing a second PhD with a President's Doctoral Scholarship from the University of Manchester, developing what she calls 'tracktivism': walking and moving in rural landscapes as an activist arts practice. She uses walking to facilitate talking and listening; creating unexpected encounters in unusual places. Her curiosity lies in how the aesthetics of a walk and intention of the walker can open a space of embodied dialogue around politics and sustainability.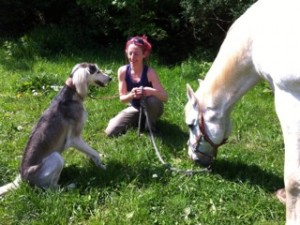 In 2012, from her then home in South Herefordshire in the heart of the rural agricultural economy, she developed a month-long walking performance "All in a Day's Walk", first performed in the winter of 2012 and repeated in summer 2013.
We arranged to meet on Offa's Dyke. I walking north from Chepstow, she coming south from Herefordshire on her way to the Green Gathering, however, our rendez vous wasn't so successful, as we found ourselves on parallel paths, and to retrace our steps. 27'38" 13MB
Download items mentioned in the interview with Jess Allen
In 2013 Jess Allen contributed to Talking Walking's 5th anniversary 5 year walking forecast – listen here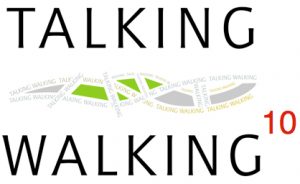 What Jess has been doing since her interview:
Jess Allen is a performance artist from Aberystwyth. She combines long-distance walking art with one-to-one performance in rural landscapes, using the walk to set up unexpected interventions with the strangers she encounters. Her work is characterised by conviviality, conversation, camaraderie; the epic scale of the walk set against the intimacy of person-to-person connection. She has a PhD in biology from Aberystwyth University, and a PhD in contemporary performance from the University of Manchester. She trained as a dancer in between.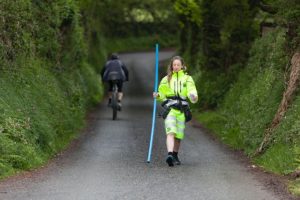 She has worked as landscape and conservation officer for local government, dance lecturer (improvisation/somatics), community arts facilitator (AHRC Multi-Story Water) and as an aerial dancer for Full Tilt Aerial Theatre and inclusive (disabled/nondisabled) companies Blue Eyed Soul and EVERYBODY dance (UK/US/Europe). She is a qualified AeroZen aerial yoga instructor and currently teaches on the Syrcas Byd Bychan community circus programme at near-zero-carbon Small World Theatre down the coast in Aberteifi (Cardigan).
Her current solo portfolio includes:
Drop in the Ocean (2013-18)
Water Treatment Walks (2016)
Trans-missions (2015)
All in a Day's Walk (2012-13)
Tilting at Windmills (2010)
She will be presenting Drop in the Ocean at the SPILL Festival of Performance from 1-3 November 2018. She will also be participating in the lunchtime talks series with festival director Robert Pacitti and artist Nabil Vega on Weds 31 October 2018.
Photo credits:  Paul Richardson, Bronwyn Preece, Richard Cott