Podcast: Play in new window | Download
Subscribe: RSS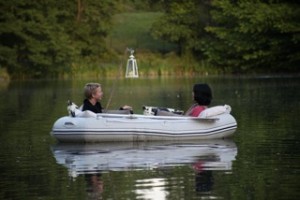 Winner of the inaugural Sculpture Shock prize of the Royal British Society of Sculptors, London-born and raised Amy Sharrocks, talks about her love of her home town, and how much she enjoys sharing discoveries with fellow walkers and swimmers. One could argue, that she is infatuated with water, not just consuming the stuff,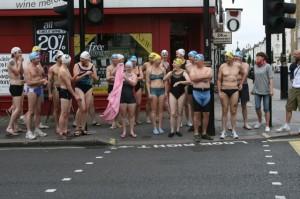 but swimming her way across London; but in truth, her interests are in journeying by whatever means as long as the mode provides the traveller with time to contemplate and daydream.
In this interview with Andrew Stuck, recorded on the eve of the selection of the Sculpture Shock winner in November, 2012, Amy talks about the range of her work and how she sees live art as a clear way in which we humans sculpt our everyday urban lives.
Download notes of items mentioned in the interview with Amy_Sharrocks
More details of the Sculpture Shock prize and the Royal British Society of Sculptors and from here you can read their blog about Amy Sharrocks piece "Falling"
Photo credits in podcast: Ruth Corney.  Podcast duration 18′ 50″ and size 8.8MB
STOP PRESS In October 2014, The Museum of London commissioned Amy's Invitation to Fall for their Late London: Sherlock's City, part of their exciting Sherlock Holmes Exhibition.