Podcast: Play in new window | Download
Subscribe: iTunes | Android | RSS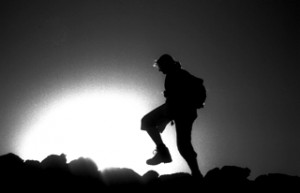 Linda Cracknell is an author who is about to have published "Doubling Back–Ten paths trodden in memory" a moving memoir where she retraces ten walks undertaken by others, from the Highlands of Scotland to the Swiss Alps and Kenya.  It has been chosen as a Book of the Week on BBC Radio 4 to be broadcast in the last week of May 2014.
Our interview explores how she sets out to write a narrative of a journey on foot, what she leaves out and how she draws in the reader to the journey or story she tells.  Now living in Scotland, her surroundings offer her plenty of variety for walks, short or long, in the surrounding countryside, much of which is devoid of people since the Highland Clearances. Nature and isolation are both important elements in her writing, as are memories conjured or animated by other walks, some personal, some collective some political. Linda has been influenced by the land artist movement, and especially by Richard Long and Hamish Fulton, but is also stirred by the romance of 'setting off', as captured in the writing of Robert Louis Stevenson and Laurie Lee. 29'31" 13.8MB
Download items mentioned in the interview with Linda_Cracknell
STOP PRESS: Linda is now writing a quarterly column for Walk Highlands magazine.  Check out her latest piece "Putting walks into words" for great tips on how to write about walking (March 2017).
In August 2015 Linda published this intriguing essay about a mountain walk with writers cropping up along the way!
Photo credit: Phil Horey                Book jacket credit: Freight Books
This interview was recorded over the Internet.