Podcast: Play in new window | Download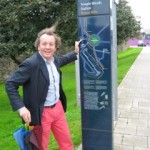 Welcome to Walk with the Mayor: Bristol's Brunel Mile  – an adapted podcast interview turned audio walk along a route that celebrates the achievements of engineering titan, Isambard Kingdom Brunel, in the company of George Ferguson CBE, Mayor of Bristol and Richard Holden from the Planning Department at the City Council.
This audio walk has been adapted from an interview undertaken on a blustery day in September 2008 from the catalogue of Talking Walking podcasts – freely available to listen to and download, Talking Walking has interviews with artists, activists and professionals from the world of walking.
Walk with the Mayor: Bristol's Brunel Mile has been produced for "Walk in your Pocket" – one of many events taking place in Bristol over the weekend of the 11th – 15th September 2013 as part of the Walking in the City project.
The original podcast interview is on
this webpage
from which you can download it and the notes from the interview.