Podcast: Play in new window | Download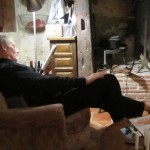 Terence Bendixson is the President of Living Streets, formerly the UK's Pedestrian's Association. He is a Senior Visiting Research Fellow at the University of Southampton in the Faculty of Engineering and the Environment, in 1974 he wrote a prescient book entitled "Instead of cars".
Not since Aneurin Bevan at the time of the formation of the National Health Service in 1948, has there been a greater opportunity for public health, so argues Terence Bendixson, and he feels that walking will be a chief beneficiary in the transfer of public health back to local authorities since April this year. 3′.24″ 1.6MB
Download notes of items mentioned in this forecast:  Terence_Bendixson
Why not listen to another 5 year walking forecast?